The black star of Ghana and Uruguay has Crashed out of Qatar 2022 World Cup despite Uruguay 2 goals victory against Ghana.
Ghana 0-2 Uruguay – Andre Ayew misses first-half penalty for Ghana, minutes before Giorgian de Arrascaeta scores twice for Uruguay.
Ghana vs Uruguay 2022 World Cup LIVE: Prediction, Head to Head, Result, News can be accessed here with Ejes Gist News.
Who: Ghana vs Uruguay, Group H
Where: Al Janoub Stadium.
Second Half on the way :
First Half Ghana 0 – 2 Uruguay.
Watch Video as Andre Ayew Missed Penalty awarded to Ghana 
Live Updates: Ghana 0 – 2 Uruguay.
32 Minutes: Another goal for Uruguay, G. De Arrascaeta
26 minutes: Oh what a great goal for Uruguay, G. De Arrascaeta
What a great save, Ghana missed the penalty
19 minutes: penalty awarded to Ghana after VAR checks for a penalty.
 Ghana vs Uruguay Kick-off Time: Friday, December 2, 4:00 pm WAT
FIFA Ranking: Uruguay (14), Ghana (61)
Twelve years have passed since a young Luis Suarez cleared a Jabulani ball off the line to deny Ghana a last-minute winner in the 2010 World Cup quarterfinal in South Africa.
Suarez was sent off, and in the 120th minute, Ghana was awarded a penalty kick, which Asamoah Gyan missed. In one of the cruelest eliminations in World Cup history, Uruguay would go on to win the ensuing penalty shootout and break the hearts of Ghana.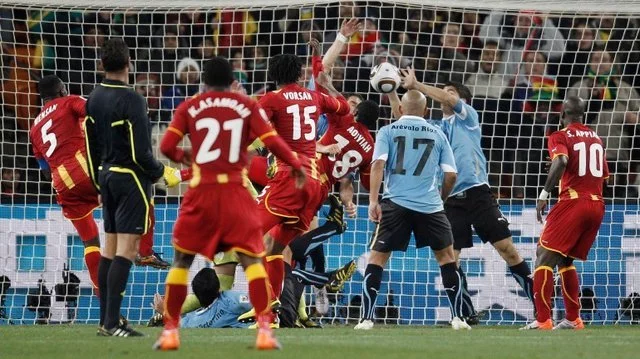 This time, La Celeste and the Black Stars face off in a group stage match, but again, qualification to the next round hinges on the outcome.
br">Ghana enters the game with three points, having lost 3-2 to Portugal on an opening day, but rebounding to defeat South Korea by the same score in a thrilling, end-to-end second match.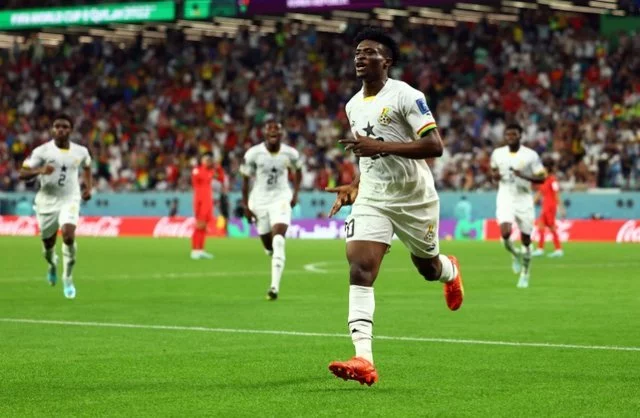 A victory would guarantee Ghana a spot in the round of 16, but a tie would suffice if South Korea defeats Portugal by two goals or more in their final group match.
At  Ejes Gist News we predict that the match will end at 1:2 in favour of Ghana.
As a result of their goalless draw with South Korea, Uruguay enter this match in a worse position than their opponent. Uruguay's 2-0 loss to Portugal in their second match means they have yet to score in this tournament.
Scoring will be crucial in their match against Ghana, as they must win to have any chance of qualifying. Uruguay should be able to end their goal drought with Edison Cavani, Darwin Nez, and Luis Suarez all available.
Interestingly, Uruguay, like Ghana, will be rooting for South Korea to struggle against Portugal. La Celeste can advance to the next round if they defeat Ghana and South Korea loses or draws their final match. If both Uruguay and South Korea win, goal difference, goals scored, or fair play could determine who advances with Portugal from Group H.
While experts in the back room will follow these equations, the players themselves will seek to keep things straightforward: all they can do is score and win.
Uruguay v Ghana head to head.
Uruguay defeat Ghana in the 2010 World cup held in South Africa.