NYSC Senate Approved List for for all institutions 2023 Batch A, B &C Prospective Corpers
NATIONAL YOUTH SERVICE CORPS (NYSC) SENATE LIST FOR 2023 BATCH 'A' PROSPECTIVE CORPS MEMBERS.
Please note that the same process or steps used in checking the Senate list for batch A are the same as those used for batches B and C.
Are you a recent graduate awaiting mobilisation and How To Check NYSC Senate List? If that is the case, we are pleased to inform you that the National Youth Service Corps (NYSC) senate list for prospective corps members in Batch 'A' 2023 is now available.
How To Check NYSC Senate List portal for validating the senate-approved mobilisation list (2023 Batch 'A') of various Nigerian institutions can found here.
This Notice is hereby given to all prospective corps members of the National Youth Service Corps (2023 Batch 'A') that they can now check the Senate and Academic Board-approved mobilisation list of their respective institutions for free on the NYSC portal.
It should be noted that the uploading of approved names is currently ongoing. All questions about 'date of birth' and 'name correction' should be directed to the Students Affairs Unit.
Check if your name has been uploaded to the NYSC Senate-approved list by following the five simple steps below:
To view your mobilisation status, select your institution, enter your Matriculation Number and Surname in the required columns, and then click on the 'SEARCH' button.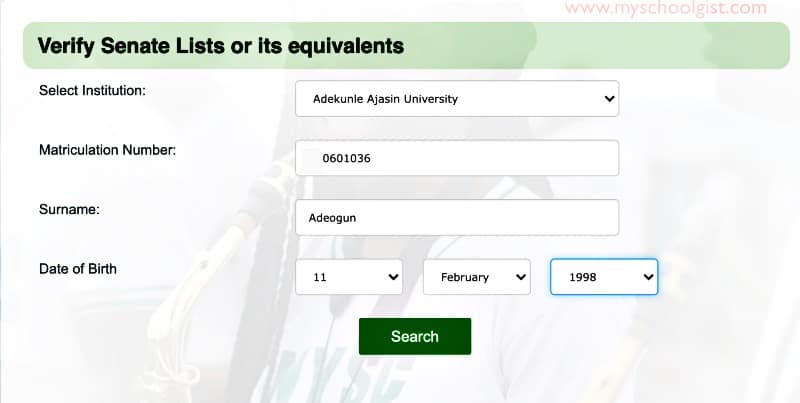 At this stage, your data and mobilization status will appear beneath the search box.

NB: The uploading of names continues. If your name has not yet been uploaded to the portal, it is possible that your school is still in the process of uploading. So you can continue to check back. Without delay, all complaints must be directed to your institution.
NYSC Registration Tips for Prospective Corps Members
See also – NYSC Batch 'A' Online Registration Guide and Requirements 2023.
This link is for those who are registering for the first time.
The Revalidation link is only accessible to those who were mobilised in prior Batches but did not attend Orientation Camp.
If you have previously registered but have not completed your Registration, do not create a new account; instead, click "Login Here" to continue your registration using your old Username and Password.
Do not submit a proxy thumbprint.
Upload a clear photo of your passport. You will not be registered at camp if you upload a photo of yourself wearing a NYSC-emblazoned vest while wearing a passport.
Utilize the links on your dashboard appropriately and stay connected to all of our social media platforms for the most recent updates.
Apply for Name Correction on your dashboard, including corrections for misspellings, rearranging, adding, and removing names.
Date of Birth is included on Military Discharge Certificates. You are responsible for ensuring that your Date of Birth is accurate on the NYSC Portal; if it is not, you must use the available windows on your dashboard immediately following your Online Registration to apply for a correction.
Note that your Date of Birth cannot be modified after Camp Registration.
PCMs who uploaded their Thumbprint and Passport Photograph incorrectly during Online Registration must contact our States Secretariat prior to the start of the Orientation Exercise. No changes to passport photographs are permitted after registration.
Part-time graduates are required to register online so that they can print their Exclusion Letter from their dashboard once PCMs are enabled to print their Call-up Letters.
Recommended:
Thanks for using this website to learn about  How To Check NYSC Senate List.