Pele, arguably the greatest player of all time, has passed away at the age of 82.
During his 21-year career, he scored a world-record 1,281 goals in 1,363 appearances, including 77 goals in 92 matches for his country.
Read Also Pele: 7 Ultimate Reasons The Brazil Legend "Is The Greatest Of All Time"
Pele, the only player to win the World Cup three times, in 1958, 1962, and 1970, was named the Player of the Century by Fifa in 2000.
In recent years, he had been suffering from kidney and prostate issues.
Pele had surgery to remove a colon tumour in September 2021 at the Albert Einstein Hospital in Sao Paulo, following the discovery of the tumour through routine tests. He was readmitted to the hospital near the end of November 2022.
Read Also Bayelsa Man Absconds From Marriage Ceremony Over Incessant Demands
His daughter Kely Nascimento has regularly updated her followers on her father's condition via social media from the hospital.
Thursday, she posted a photo of what appeared to be Pele's family holding his body in the hospital and wrote: "We are everything we are because of you. We love you inexhaustibly. Rest in peace."
Read Also Endorse 'The Devil' You Know — Senator Shehu Sani Tells G-5 Governors
Edson Arantes do Nascimento, better known as Pele, became a global icon in 1958 when, at the age of 17, he helped Brazil win the World Cup in Sweden by forcing his way into the starting lineup in the knockout rounds.
He scored the only goal in a 1-0 quarterfinal victory over Wales, a hat-trick against France in the semi-final, and two goals in a 5-2 final victory over the hosts.
What made Pele great
Scored a reported 1,281 goals in 1,363 games
Made 14 appearances at World Cup finals, scoring 12 goals
Racked up 126 goals in 1959 alone
Only player to win three World Cups
Two years earlier, at the age of 15, Pele made his debut for Santos, scoring seven goals in a 7-1 victory over Corinthians de Santo Andre.
It was the first of 643 goals he would score for the club in official competitions over the course of 19 years, although Santos claim the total is over 1,000 when exhibition matches – often against high-profile European opponents – are included.
Pele, then 21 years old, opened the 1962 World Cup with a brilliant individual goal in a 2-0 victory over Mexico. However, he was injured in the next match and was forced to watch his team defend their title from the sidelines.
The last of his three World Cup victories was the most iconic. After being disqualified from the 1966 tournament in England due to a foul, he was the pivot of an exciting attacking team that won the championship in 1970, scoring the opening goal in a 4-1 victory over Italy in the final.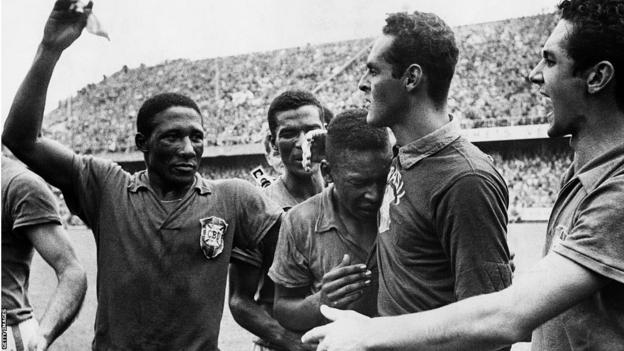 From his tearful embrace with teammate Nilton Santos to his embrace with England captain Bobby Moore, Pele's magical moments have defined the history of the sport.
He concluded his club career playing for the New York Cosmos alongside German legend Franz Beckenbauer and fellow 1970 World Cup champion Carlos Alberto.
"There is Beethoven and everyone else in music. In soccer, there is Pele and everyone else "stated in 2000
Pele was voted the greatest player in a poll conducted by BBC Sport in 2020, ahead of Lionel Messi, Cristiano Ronaldo, Diego Maradona, and Johan Cruyff.