Simon Ekpa has been arrested by the Finnish government.
The Finnish police have arrested Biafra Separatist Leader Simon Ekpa for threatening to boycott Nigerian elections.
Ekpa has threatened that anyone in Nigeria's South-East who attempts to participate or vote in the 2023 General Elections, which are set to take place on Saturday, February 25th, will be dealt with harshly.
HS reported that police removed the separatist from his Lahti apartment.
When the HS team rang Ekpa's separatist bell, the Finland police, KRP, answered.
The HS said the KRP prevented their team from entering Ekpa's apartment and that the interview would be moved "to the future".
On Thursday, an anonymous Finnish Embassy official in Abuja confirmed Ekpa's arrest to Newsmen.
"It is our understanding that he is currently in police custody in Finland," a non-press official told Newsmen.
"Ekpa is seen being escorted out of his home in Lahti by plainclothes Finnish police," the official said.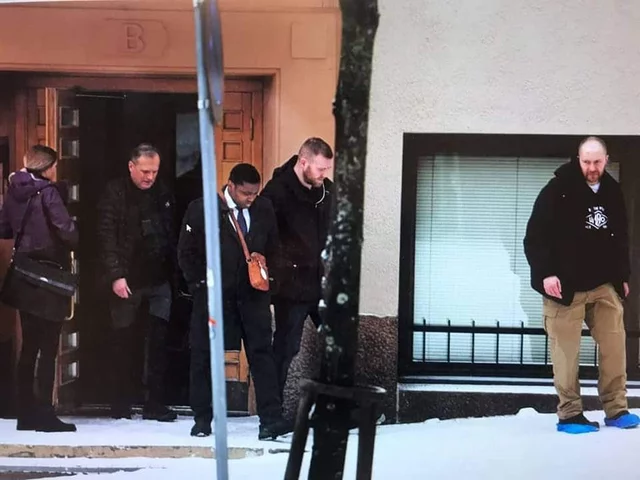 Photo file: Simon Ekpa arrested.
Read Also Simon Ekpa Accused of Receiving $1Million To Destroy Peter Obi's Chances
The "Unknown Gunmen," a dangerous armed militia responsible for the deaths of several people, including public officials in the South-East, have pointed the finger at the separatist leader as being the target of several killings.
Read AlsoPeter Obi, Tinubu or Atiku? 7 Pastors Release Prophecies, Predict Winner of 2023 Election, Nigerians react
Simon Ekpa, who calls himself Nnamdi Kanu's disciple and is the IPOB's (Indigenous People of Biafra) imprisoned leader, gained notoriety in July 2021 when he was named Radio Biafra's chief broadcaster.
After Kanu was again detained by the federal government, the activist from Finland was chosen to take Kanu's place. After a few weeks, IPOB declared Ekpa's disengagement, citing his refusal to agree to the Radio Biafra rules of engagement.
Simon Ekpa Arrested in Finland.
Officers from the Finnish Central Criminal Police picked up Ekpa from his apartment in the Lahti region of Finland on Thursday morning.
The Federal Government summoned Leena Pylvanainen, the Finnish ambassador to Nigeria on February 15, 2023, over "hate speech and incisive comments" made by Simon Ekpa.
Geoffrey Onyeama, the minister of foreign affairs for Nigeria, warned Pylvanainen during the meeting that if nothing drastic is done, the Federal Government would not take lightly the threat that Ekpa's actions posed to the upcoming election.
"Obviously, he is living in the comfort of his home there in Finland, and we know that we have been in touch with your good self, so we thought it was important for us to have this chat with you to let you know that.
"We've had some time to make sure we stop this situation, but it looks like things are getting out of hand. We are also stating that enough is enough. We should make it clear to you that Nigeria needs your full support in order to get something done right away because he is endangering the upcoming elections.
The sad part is that this man has a lot of supporters online. And the very next day, as soon as he issues these instructions, there are destructions. They start burning things down and killing people. And we think this is not right.
"It's crucial to understand that someone's actions are endangering these elections, and that as a result, something urgently needs to be done to address the situation.
The minister, who was represented by the Minister of State for Foreign Affairs, Zubairu Dada, had said to Pylvanainen, "This in essence is why we thought it was important for us to have this discussion with you, in order to let you know our concerns and the displeasure of the Government of Nigeria and the people of Nigeria on this very unhealthy development."