Asisat Oshoala Biography: A Trailblazing Football Star, all you need to know including, Her daughters name, Father, husband and net worth.
Asisat Oshoala is a name that resonates strongly in the world of football, especially in the realm of women's sports. Born on October 9, 1994, in Ikorodu, Lagos State, Nigeria,
Asisat Lamina Oshoala is a Nigerian professional footballer renowned for her exceptional skills and goal-scoring prowess. Her remarkable achievements have earned her several accolades, including being named African Women's Player of the Year four times.
Early Life and Football Beginnings
Asisat Oshoala's journey to success was not without challenges. Raised in a Muslim family, her interest in football initially met resistance from her parents. Despite the opposition, she embraced her passion for the sport, honing her skills while playing with friends and classmates, mainly boys. Gradually, her commitment to the game won over her parents' support, especially her late grandmother, who became her biggest supporter.
Education and Career
Asisat Oshoala attended Air Force Primary School in Victoria Island, Lagos, for her primary education. She continued her studies at Aunty Ayo International School in Ikoyi, Lagos, where she completed her secondary education in 2009.
Her football career took off when she joined Nigerian Lower Division side FC Robo in 2009. Later, she moved to Rivers Angels in 2013, where she gained prominence. Her breakthrough came in the 2014 FIFA U-20 Women's World Cup in Canada, where she emerged as the tournament's top scorer with seven goals, earning her the Player of the Tournament award.
Asisat's remarkable performances caught the attention of Edwin Okon, the Super Falcons coach, who called her up to represent Nigeria at the FIFA Women's World Cup in Canada. Her versatility and skill set made her a valuable asset to the team.
As of 2023 Oshoala is 29 years old and was born on October 9, 1994, in Ikorodu, Lagos, Nigeria
Notable Club Transfers
In January 2015, Asisat Oshoala made history by becoming the first African female to play in the Women's Super League, joining Liverpool Ladies. Her debut season earned her the prestigious BBC Women's Footballer of the Year award in 2015.
In 2016, she moved to Arsenal Ladies and, a year later, joined Chinese club Dalian Quanjian F.C. as the top scorer in the 2017 Superleague. Her impressive performances in China led to her securing a loan deal with Spanish club FC Barcelona Femeni in 2019. Later that year, she signed a full transfer to the club, becoming the first Nigerian to score in any UEFA Champions League final.
Personal Life and Motherhood
Asisat Oshoala is a private person when it comes to her personal life. She has a daughter, but the identity of her father remains unknown to the public. Rumors about her dating life, including a speculated relationship with Nigerian beach soccer player Abu Azeez, have never been officially confirmed or denied by Asisat herself.
Asisat Oshoala net worth and Financial Success
Asisat Oshoala's success on and off the field has brought her significant financial rewards. Her estimated net worth is approximately $3 million. Her earnings are not solely derived from her football achievements but also from lucrative endorsement deals with reputable brands.
Asisat Oshoala's Earnings at FC Barcelona
Sources suggest that Asisat Oshoala earns an estimated NGN ₦10,322,181.45 (£10,500) per week or NGN ₦39,319,496.00 (£40,000) per month. According to these figures, Oshoala ranks among the highest-paid female football players globally.
It is essential to note that these figures are approximations and may not precisely reflect the actual amounts. Football teams often keep their players' salaries confidential, with only the player and the club having precise knowledge of the exact amounts.
Asisat Oshoala Car and Foundation
With her financial stability, Asisat Oshoala indulged in a luxurious Mercedes-Benz CLA 250 car, reflecting her success and status as a prominent figure in women's football.
In 2019, she established the Asisat Oshoala Foundation, aiming to empower young girls, promote education, gender equality, and sports development in Nigeria and beyond.
Asisat Oshoala Biography, Wiki Profile.
| | |
| --- | --- |
| Date of Birthday | October 9, 1994 |
| Place of Birth | Ikorodu, Nigeria |
| Nationality | Nigerian |
| Children | one |
| Residency | Europe |
| Boyfriend | None |
| Instagram | @asisat_oshoala |
| Height | 1.73 m |
| Weight | 60 kg |
| Net Worth | Over $3 million |
Awards and Achievements
List of Asisat Oshoala's CAF awards:
2014 African Women's Player of the Year
2016 African Women's Player of the Year
2017 African Women's Player of the Year
2019 African Women's Player of the Year
2022 African Women's Player of the Year
She has also achieved the remarkable feat of being the first African woman to secure victories in the UEFA Women's Champions League, claim the Primera División's Pichichi Trophy, and receive a Ballon d'Or nomination. As such, she is widely acknowledged as one of the greatest African female footballers in history and stands among the best in the world.
Asisat Oshoala's remarkable contributions to women's football have earned her numerous awards and accolades throughout her career. From being named African Women's Footballer of the Year multiple times to receiving prestigious honors like the BBC Women's Footballer of the Year, her impact on the sport is undeniable.
Asisat Oshoala's legacy as one of the best female footballers of all time continues to inspire young women and girls worldwide, encouraging them to pursue their dreams and take up sports.
Also Read Betta Edu Biography, Husband, profile, Age, father and Net Worth
Asisat Oshoala's journey to success is a testament to her talent, determination, and resilience. From defying odds to achieving greatness, she remains a shining star in the world of football and an inspiration to many.
In April 2020, Asisat posted news about her inclusion in the Forbes Africa 30 Under 30 list. Read more: .
Forever Grateful …..#ForbesAfrica 30 under 30 class of 2020 💪🏾🙏🏾❤️ pic.twitter.com/hDDvAJHrPq

— ASISAT M.O.N (@AsisatOshoala) April 7, 2020
What was Oshoala's first football club?
From 2009 to 2013, Oshoala was a part of Lagos-based women's club FC Robo. Subsequently, in 2013, she made the transition to Port Harcourt to join the renowned Nigerian team, Rivers Angels.
During her time with Rivers United, she achieved a significant milestone by securing her first professional trophy, the Nigeria Women's Cup, in 2013. Following this success, she went on to accomplish a remarkable feat in 2014, clinching both the Women's League and Cup, completing an impressive double for the team.
When did Oshoala move to Europe?
In January 2015, Oshoala made a significant move to England, where she joined the Women's Super League side, Liverpool. Her talent was highly regarded, and the club's manager, Matt Beard, hailed her as "one of the best young players in the world." This marked a new chapter in her career, as she embarked on an exciting journey in English football with Liverpool.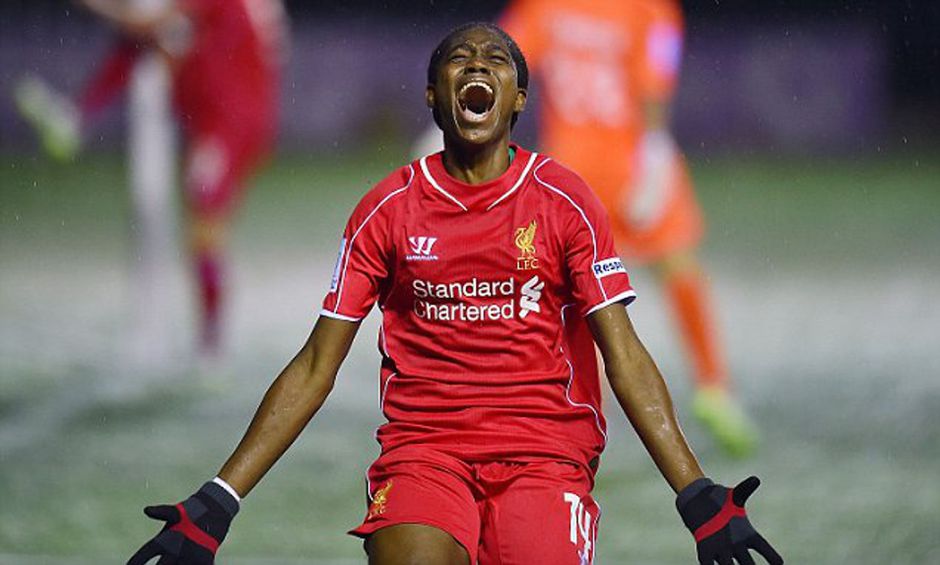 Who is Oshoala husband?
As of now, the Barcelona star has a daughter, but the identity of her daughter's father remains undisclosed. Currently, there is no confirmation of any marriages, and she is single.
How many World Cups have Oshoala played?
As of 2023, Oshoala has proudly represented Nigeria in two FIFA Women's World Cups. During her participation, her exceptional goal in Nigeria's 2-0 victory over South Korea received recognition, as it was nominated for Goal of the Tournament by FIFA. Additionally, she achieved a historic milestone by becoming the first African woman to score three goals in a World Cup match. This accomplishment came after the Super Falcons secured a remarkable 3-2 victory against Australia during the group stage on July 27,2023. Oshoala's remarkable performances have undoubtedly left a lasting impact on the global stage of women's football.
This is why Asisat Oshola is trending . Nigeria Super Falcons always making us proud. Waiting for the first female Nigerian President.#FIFAWWC , Agreement is agreement , Asisat Oshoala , Pay Them , Wike , Dele Alake , pic.twitter.com/VgnYR5e5ja

— Okrote4real (@my3kidsare1) July 27, 2023
Asisat Oshoala's salary at Barcelona has not been officially disclosed, which makes it challenging to provide an exact amount.
Jada Pollock Biography, Net Worth, Wiki, Real Name, Husband, Wizkid Manager
Nevertheless, there have been unofficial estimates and speculations surrounding her earnings. It is believed that she earns approximately £10,500 per week, which would translate to a monthly salary of around £40,000.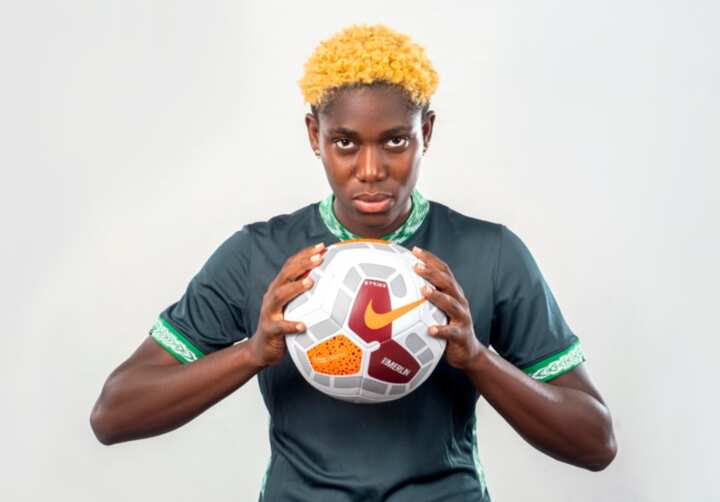 However, it's crucial to emphasize that these figures are not confirmed and are subject to change since they are based on speculation rather than official reports.
Asisat Oshoala, the five-time African Footballer of the Year, faced the difficulties of early motherhood before embarking on her football career.
The news of her first daughter was met with surprise when she publicly introduced her on social media.