Latest npower news stream 2 update today on salary wed, Feb 15, 2023
Latest NASIMS News on Npower stipends Payment.
Latest npower news today February 15, 2023, NASIMS News on payment today, npower news stream 2 , Npower Latest News and  npower news update today on salary can be accessed here on Ejes Gist News. 
In today's Latest Npower News for Wednesday, February 15, 2023, we will provide an update on what Npower has said about Npower stipend payments and the ongoing Npower knowledge exercise. Read on then!
In a recent statement, the Npower team stated categorically that they sincerely regret the delay of the Npower batch C stream 2 payment. Please be advised that our technical team is currently initiating payments for batch C2 recipients. Npower stated that your stipends will be paid in full.
Concerning N-Power Knowledge Trainees, Npower management has informed newly deployed beneficiaries that on-camp registration is still ongoing and will end on February 17, 2023.
You must report to camp with a copy of your N-Power profile page and your Bank Verification Number (BVN), as well as a valid form of identification and your personal belongings.
Beneficiaries of the Npower programme can access the Nasims self-service dashboard at any time to check for any updates. Additionally, they are encouraged to monitor Npower's official social media channels for updates.
The Npower discussion group sends Valentine's Day greetings to all Npower volunteers. And don't forget to spread some love today by making yourself and your coworkers smile.
---
In Today's Latest Npower News stream 2 for February 3rd, 2023, we will discuss the expectations of Npower programme participants since the beginning of the year 2023.
The beneficiaries of the Npower programme began the year 2023 with little motivation because they were owed stipends for the three months of October, November, and December 2022. Although the management of Npower has assured beneficiaries that they will be paid in the near future, the majority of beneficiaries have not yet come up with an explanation for why Npower is taking so long to pay. Check to see if payment will be made in February 2023.
Pay Attention to Peter Obi may win this election, the acceptance he';s getting from the north is alarming — Yakubu Dogara 
As previously discussed, the management of NSIP and Npower has resumed payment of stipends to their recipients. Consequently, Npower recipients should expect their overdue stipends to be cleared soon.
Npower news stream 2 : npower news update today on salary , Npower Latest News
You will recall that in January 2023, we informed you that thousands of beneficiaries of the National Social Investment Programme (NSIP) from the Federal Ministry of Humanitarian Affairs, Disaster Management, and Social Development stormed Sir Tafawa Balewa Stadium in Bauchi State to receive and thank President Muhammadu Buhari for maintaining the Programme.
This occurred as Nigerians prepared for the February 2023 general election, which is scheduled to take place this month. In the previous election, NSIP recipients played a crucial role in the election of the current administration.
NSIP is an initiative of the Buhari administration designed to eradicate poverty from 100,000,000 Nigerians in 10 years. The NSIP programme is comprised of the Npower programme, conditional cash transfer, the General Education Enhancement Program, and the National Homegrown School Feeding Program.
Read Also Dollar To Naira Black Market today 3rd February 2023, USD to Naira
Since its inception in 2016, three sets of beneficiaries have passed through the Npower programme. And these beneficiaries, who are known as exited Npower beneficiaries, are also applicants for the Nexit programme and Npower work nation, an initiative designed to empower these beneficiaries further.
---
A few days into the second month of the year 2023, NASIMS management has refused to speak regarding Npower batch C stream 2 stipends. An undisclosed source has claimed that some Npower batch C stream 1 beneficiaries will be engaged in the forthcoming National Population Census across the nation.
However, the Npower stipends payment date for batch C stream 2 will be announced very soon, according to the most recent NASIMS news.
In the same vein, the budget for the exit package for Npower Batch C Stream 1 has not been approved by the Federal Ministry of Humanitarian Affairs, Disaster Management, and Social Development (FMHDS).
Also, the Ministry of Humanitarian Affairs, Disaster Management and Social Development have inaugurated the Committee on the implementation and institutionalization of its Strategic Roadmap and Coordinating framework.
---
Npower News January 23rd:  NASIMS management has reassured Npower Batch C Stream 2 that their stipends will be paid very soon. NASIMS management stated that their teams are speeding up the process. Npower management also apologises for not stating the exact date the payment will be made to beneficiaries.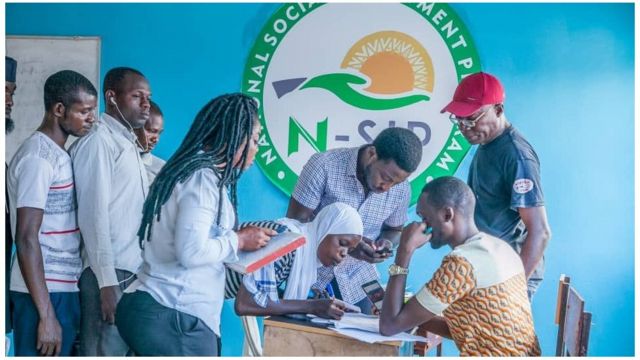 The statement reads; Rest assured that Batch C2 beneficiaries will definitely get paid. Please note that our technical team is working to speed up the process of dealing with this and everyone eligible shall receive their stipend. Once again, we are extremely sorry for the delay. Regards.
NASIMS management has released an important update regarding the payment of stipends for Npower Batch C Stream 2 and those with outstanding payments.
According to sources within NASIMS management team who doesn't want his name to be mentioned confirmed that payment of Stipends for Batch C Stream 2 will commence as February.
The source said the delay is as a result of shortage of funds to the ministry and other investigation currently ongoing among official responsible for payment and allocation of Stipends.
If NASIMS management is owing you outstanding stipends you should contact them now.
The message reads;  Good Day all C1 Beneficiaries,
VERY IMPORTANT INFORMATION on Latest Npower News 
Please we are currently reaching out to those with "Paused Accounts" via 014432057 and requesting your account information as your payments were paused due to wrong or incomplete account information on your profile page.
Kindly give our agents your maximum cooperation.
Please note that you can also call in via 018888148, 092203102, or 0700CALLNSIP to give us your details.
Those Npower batch steam 2 payments will commence very soon.
---
The deployment tab on the NASIMS portal for Npower batch C stream 2 beneficiaries, which was removed some time ago, has been reinstated on the beneficiaries' self-service portal, according to the Most Recent Npower News.
Though there is currently nothing to do with the deployment tab, it is a positive sign that the management team has returned to work and may soon initiate payment for the Npower batch C 2 recipients.
However, the reappearance of the deployment tab is advantageous for those Npower batch C2 recipients who have not yet downloaded their deployment letter or uploaded their acceptance letter. If you have already done so, there is no need to repeat the process.
The management of Npower has acknowledged and expressed regret that they have not fulfilled their obligations to the Batch C2 graduate category recipients. However, they hope to turn things around in this new year. Please remain diligent and optimistic while they complete the task. Npower said!
In addition, we advise prospective Npower applicants who are wondering if there will be new recruitment this year to stay tuned and pray that the government institutionalism the Npower Program so that it will continue even if the Administration changes.
---
Previous Npower Latest News
In Today's Latest npower news update today on salary  and Npower Latest NewsFor Tuesday, January 10th, 2023, we would like to wish all Npower beneficiaries, both those who have left and those who are still serving, a very happy new year.
We are all aware that 2022 was a difficult year for Npower recipients because certain expectations were not met. Despite this, we all survived, and we are fortunate to witness the year 2023. All glory to God!
The year 2023 is viewed as crucial not only for Npower recipients but also for all Nigerians, as it will determine the future of the Npower programme and Nigeria's future.
Some Npower recipients who expressed interest in serving as Adhoc staff for the 2023 and NPC 2023 censuses will be recruited to participate in these special events that will shape the face of Nigeria if selected.
As you are all aware, the Npower Programme is a youth empowerment initiative designed to equip young Nigerians with work experience and entrepreneurial skills. Participation in these additional responsibilities can therefore be advantageous for a beneficiary.
Since there will be elections in 2023 that will result in a leadership change, the new leadership will determine the future of the Npower programme. We believe that the approval of the NSIP bill offers hope for the continuation of the Npower Program.
In addition, as we enter the year 2023, the management of the Npower programme will address the program's beneficiaries promptly regarding issues about the payment of stipends. Therefore, keep watch
You are encouraged to stay informed about the Npower Programme via the NASIMS self-service portal and the official Npower social media channels.
---
The Npower deployment for N-Power batch C2 is still ongoing. The deployment is still ongoing. If you are chosen as a beneficiary but have not yet been deployed, you will be sent to your primary assignment.
npower news update today on salary on Batch C Stream 1 August  Payment
Npower also stated that they are aware of batch C1 beneficiaries who have not received their August stipend payment. You can rest assured that all outstanding payments will be reinstated and you will receive your payment. According to N-Power.
As previously stated, there is no information on when payment for Npower batch C stream 2 stipends will begin. But for the time being, all we can tell you is to keep an eye on the payroll tab for changes; once the payroll payment update appears on the self-service dashboard, you will know it is time.
To answer the question that some batch C1 beneficiaries have about whether there will be Npower September stipend payments for batch C1 beneficiaries, all we can say for the time being is to stay updated with Npower officials' news via their social communication platforms.
As December draws to a close, N-Power batch C stream 2 volunteers are patiently awaiting their first stipend payment to help them celebrate the holidays and the new year.
With only a few days remaining before the new year, it remains unclear whether payment will be made before the 31st of December 2022, when Npower beneficiaries will celebrate the New year.
If the first stipend payment for Npower batch C stream 2 recipients is not made by the end of December 2022, it will be made after the holiday season, as the ministry of humanitarian affairs released a publication this week regarding their plans for the Npower Programme.
Will Npower recipients celebrate the Christmas and New year holidays differently this year compared to previous years when Npower payments were delayed? Regarding the payment of stipends, all eyes and ears are on the ground, awaiting positive news.
Know that you can call the Npower care line to discuss your concerns and that you can also continue the conversation on social media, as we hope that things will improve this year.
Therefore, let us wait and pray that the first payment for Npower batch C stream 2 will be made this December, based on logistical considerations so that recipients can celebrate Christmas in style.
However, we would like to take this opportunity to wish you a Merry Christmas in advance.
npower news update today on salary and Work Nation
Regarding the Work Nation and Next programme for the former A, B, and C1 Npower beneficiaries! Regarding this, nothing new has been said as of yet. Until then, we recommend keeping an eye out for any new updates issued by the Npower management team.
Previous Npower Latest News,  Npower News and NASIMS News complied for you. 
Thanks for reading about NASIMS News on payment today, npower news stream 2, npower news update today on salary, npower news today 2023 , Npower Latest News and the latest Npower news now.