Tiwa Savage, a well-known singer from Nigeria, has claimed that she was almost abducted on Thursday, April 13.
The Stamina Crooner confirmed the horrifying incident on her verified Instagram page through her manager, and it was also made known that those responsible for the kidnapping attempt had been arrested and were being questioned.
Read Also: Tiwa Savage Was Almost Kidnapped in Lagos, Kemi Olunloyo Shares Details
We can confirm that on Thursday, April 13, 2023, there was a significant security breach at the concert of musician Tiwa Savage in response to recent online reports.
A number of suspects were apprehended and are being held at the Alagbon Police Station in Ikoyi, while the case is being investigated.
The press release states that Ms. Savage and her family are all secure.
According to earlier reports, Tiwa Savage narrowly escaped a kidnapping attempt orchestrated by her new driver.
Renowned journalist Kemi Olunloyo caused a stir on social media when she disclosed on her social media platform that there was an alleged kidnapping attempt on popular musician Tiwa Savage.
According to Kemi's statement, the incident occurred on April 13th in Lagos.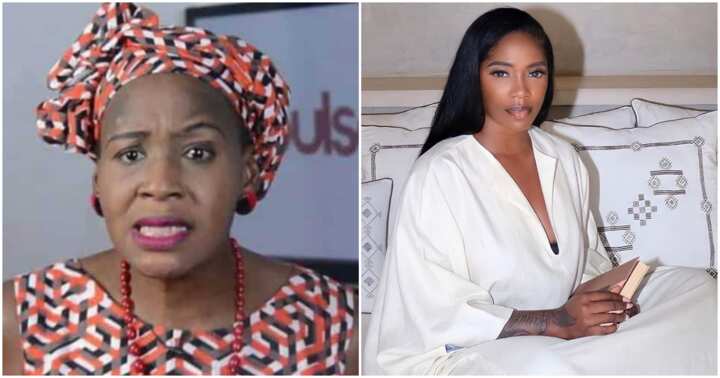 Tiwa Savage Almost Kidnapped
Tiwa Savage's new driver allegedly leaked information to accomplices who had been following the singer for several days as she left her home, according to sources close to the situation.
Also Read Jamie Foxx, hospitalised with 'medical complication
According to Kemi, a kidnap attempt was thwarted with the assistance of a vigilante-style private security team, and all parties involved were subsequently turned over to the police at CID Alagbon in Ikoyi.
Celebrities are advised to exercise caution and remain vigilant when it comes to their domestic staff. In recent times, Nigeria has been deemed a highly perilous location. As a responsible internet user, it is important to exercise caution when sharing personal information online.
This includes refraining from posting pictures or information about your children, as well as details about your home or other sensitive information.
By taking these precautions, you can help protect your privacy and the safety of yourself and your loved ones.
According to Kemi, the mother of one is currently in seclusion and is reported to be doing well. Kemi also mentioned that the police will be providing updates to the media in the near future.
Nigerians react to Kemi Olunloyo's post
See some of their reactions below:
bimellabetterpikin:
"Omg but why Tiwa of all people now oluwa Seun oooo."
adigun_olawunmi_aduni:
"Thank God she's safe trust nobody now."
jikumeofficial:
"May The Wicked Perish In Their Thoughts Of Evil Towards Us. Can You Imagine? Funny Enough, You Will Be Thinking Of Supporting Some Of These People And Their Families.."
boniksbeautyworld:
"Thank GOD she is safe and I'm not here saying I still saw her at AY Live on Sunday. Halleluyah."
wow.accessoriesbytoin:
"Haaaa,thank God for the foiled Plot oooo. We live Tiwa so much oooo."
modolaautogeles:
"The hearts of some humans are just desperately wicked. May God's protection be on us all always."
Thanks for using our platform to learn about the latest Naija News on Tiwa Savage Confirms Kidnap Attempt, Reveals What Really Happened